Exhibition catalog with essay by Henry Adams
The following is an excerpt from the essay:
Eric Bransby, who is now just two years short of a century old, is a living connection to the great age of American and Mexican mural painting.  Bransby studied with Thomas Hart Benton, the figure who initiated the American mural movement of the 1930s, as well as with Jean Charlot, who while not usually given credit for this, was the artist who initiated the Mexican mural movement and its distinctive style--though he was quickly pushed aside by Diego Rivera.  Not immune to modern influences as well, Bransby also sudied at Yale with Joseph Albers, the famous Bauhaus master.  Bransby himself has produced some twenty murals over the course of his career, most of them still extant, including projects for Colorado College, Brigham Young University, Rockhurst College, the University of Missouri, Kansas City, The Sedalia Municipal Building, the City Hall in Liberty, Missouri, the Colorado Springs Fine Arts Center, and the Pioneers Museum in Colorado Springs.
THIS BOOK IS AVAILABLE FOR PURCHASE ONLINE VIA eBAY
Henry Adams has been singled out by Art News as one of the foremost experts in the American field. A graduate of Harvard University, he received his M.A. and PH.D. from Yale, where he received the Frances Blanshard Prize for the best doctoral dissertation in art history. In 1985 he received the Arthur Kingsley Porter Prize of the College Art Association, the first time this had been awarded to an Americanist or a Museum Curator.  In 1989 William Jewell College awarded him its distinguished service medal for his services to Kansas City and the Midwest.  In 2001 he received the Northern Ohio Live Visual Arts Award for the best art exhibition of the year in Northern Ohio.
He is the author of over 200 scholarly articles, ranging over the American field from the 17th century to the present. He has also written numerous books, among them Eakins Revealed, which the painter Andrew Wyeth described as "the most extraordinary biography I have ever read on an artist."
His most recent publication is Tom and Jack: The Intertwined Lives of Thomas Hart Benton and Jackson Pollock, of which Donna Seaman wrote in Booklist:
"Adams practices art history with a novelist's narrative skills and psychological acuity, a sleuth's instincts, a passion for aesthetic and technical explications, and a gift for sea change interpretations... Encompassing a stunning discovery by his art-historian wife, Adams' commanding, corrective double portrait reveals myriad camouflaged truths."
Adams is a professor of art history at Case Western Reserve University in Cleveland.
Copyright 2014 by David Cook Fine Art; essay copyright Henry Adams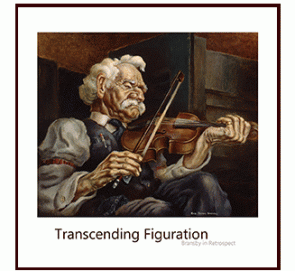 Purchase