American Indian
Current Exhibitions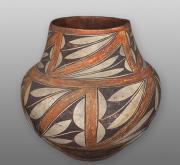 Friday, November 1, 2013
to
Saturday, January 4, 2014
A collection of clothing, textiles, parfleche and pottery illustrating the connection between utilitarian objects and the abstract and artistic in Native Societies.
News
The Denver Art Museum (DAM) takes a wide-ranging look at textiles from pre-Columbian weavings to... Learn more
Project to benefit the Food Bank of the Rockies.  David Cook Galleries has opened a store...
Learn more